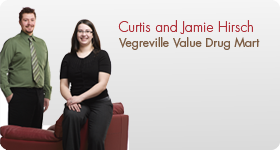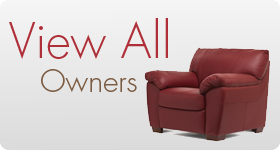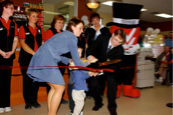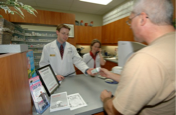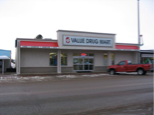 For the past 6 years, we have felt honored to not only be a part of Value Invest and Value Drug Mart Associates, but to also play such a large role in our small town of Rimbey, Alberta. We were the first couple to go through the Value Invest program, and although the road hasn't always been easy, it has led us to a place that we could have never gotten to any other way.

Heather and I both graduated from the Pharmacy Program at the University of Alberta, her in 1997 and me in 1998. After getting our degrees we both started working at the University of Alberta hospital in the pharmacy department. We both enjoyed working in the hospital environment, but we started to feel like we wanted more. One day we were looking at different retirement options, and starting to think about how our retirement would look 30 years down the road. We quickly realized that for us to reach our retirement goals, as well as enjoy what we were doing with our careers, we needed a change. What we really wanted was to own our own pharmacy.

In addition to realizing we wanted to become owners of our very own store, we also wanted to return to the small town lifestyle that we had grown up in. Heather was raised in Elnora Alberta, and I was raised in Drayton Valley, and although we liked Edmonton as a city, there were things we missed about living in a small town.

We quickly realized that our dream of owning our own pharmacy in a small town was not going to be easy. In order to buy an existing store, we needed to have starting capital of over 1 million dollars. We had no way of accessing that kind of money, and we thought that our dream was never going to become a reality. Then we heard about Value Invest.

Value Invest not only gave us the financial means to be able to become owners of our very own pharmacy, they also welcomed us into their family and gave us every possible tool and skill we would need to run our store successfully. In 2004 we moved our 2 small boys, Jared who was 3 at the time, and Tyler who turned 1 on our moving day, to Rimbey Alberta. The first few months brought with them long hours, and a steep learning curve, but we knew that we were setting a foundation that would finally help us reach our goal. Since then, we have had 6 years of amazing growth in our store, and the wonderful blessing to be able to raise our family in a small town like Rimbey.

Through the assistance of Value Invest and Value Drug Mart Associates, plus our own hard work and determination, we have been able to move towards our goals, both for the present, and the future.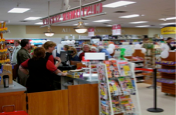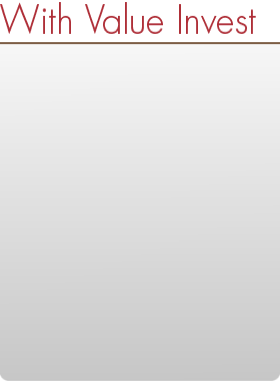 Own a 5,000 to 10,000 square foot, full line store

Own an established store in an established market

Practice Pharmacy the way you want to

Receive 100% financing

Earn $100,000 salary, benefits, plus the equity in your store

Benefit from management and operational support

Have the independence of being an owner with the benefits of belonging to a group

Experience the freedom of ownership