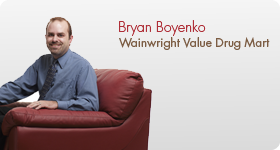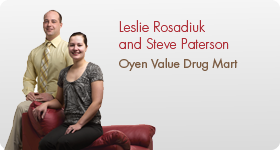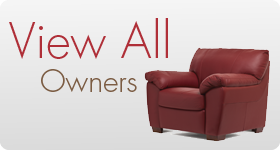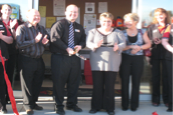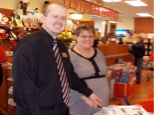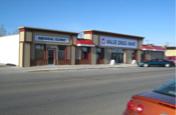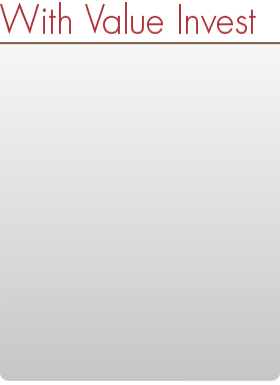 Own a 5,000 to 10,000 square foot, full line store

Own an established store in an established market

Practice Pharmacy the way you want to

Receive 100% financing

Earn $100,000 salary, benefits, plus the equity in your store

Benefit from management and operational support

Have the independence of being an owner with the benefits of belonging to a group

Experience the freedom of ownership

The goal of owning our own store began long before we had ever heard of Value Invest or Value Drug Mart Associates. For me it started while I was growing up in the small town of Daysland, Alberta. The drugstore in our town played such an important role in the lives of most of the people in Daysland, from providing health services to supplying all the daily products we needed. This drugstore was the reason I decided to become a pharmacist, but at the same time, I never really imagined practicing pharmacy without owning the store I worked in. After I had started working as a pharmacist in Red Deer, I met Dionne and as we got to know each other, she started to share her dream of owning her own business as well. She had always imagined it would be in the food industry, but just over a year after we were married, the opportunity with Value Invest arose and we decided to take it.

Both Dionne and I worked in the Red Deer Value Drug Mart store, and it was through this that we heard about Value Invest. I had worked at Value Drug Mart for 5 years as a pharmacist and pharmacy manager, and Dionne worked as the front store manager for almost 2 years. We both knew what Value Drug Mart was all about, and what they stood for, so when we heard about Value Invest, it was knowing that we would be connected to the Value Drug Mart family that helped play a big part in out decision to move forward.

With Value Invest's help we became the new owners of the store in Didsbury in 2006. One of the biggest challenges for us was to move our family to a town where we didn't know anyone. Although the town was extremely welcoming, all of our family and our old friends either lived north of, or in Red Deer. Despite us leaving, all of our friends and family were incredibly supportive, and this helped to reaffirm in us that this was something we could do. It had been our dream for a long time, and seeing it start to become a reality drove us forward.

Based on our experience working in a pharmacy, we were comfortable with the pharmacy side of the business, and we also had some management experience. For other issues such as the financials and the Point of Sale system, we relied heavily on the assistance of Value Invest and other members of the Value Drug Mart family. Perhaps the most amazing part of starting this experience was the support we received from almost anyone we asked of it.

We are currently working on our 4th full year of ownership, and although there are still challenges, the rewards have already begun to outweigh any issue's we have faced. We have been welcomed within our community and have already been able to give back to it in so many ways. We are able to experience a freedom to own and operate our business while still being home with our kids when we need to be. We know that all of our hard work is for us and that we are in control of our destiny because we are working for ourselves. We truly believe that the most success comes from being in control and being owners. One of the greatest rewards of this experience has been waking up every morning and feeling a real sense of joy in being able to go to work in our store. Our lifelong dream has finally become a reality.